Dates Offered:
03/25/2016
-
03/28/2016
Pricing Details:
50% off second night
In the UK, the Easter Weekend has historically announced the arrival of spring and the summer season.  After a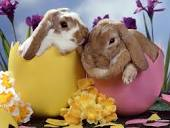 damp, dull and dark winter it's a time to "get out and enjoy".  To celebrate this event here on Cape Cod, spend two nights at the Parsonage  (March 25-27) and enjoy a 50% discount on the second night. Still winter low rates, plus!!
Relax and enjoy a cozy weekend in East Orleans at the Parsonage.   If it's cool, relax infront of a crackling fire with a glass of wine and a good book.   Walk the beaches and experience great restaurants all within walking distance or a 10 minute drive. Call us.
Filed under: Special Discount, Specials
Select an offer type to see other similar offers