Pricing Details:
$40 per person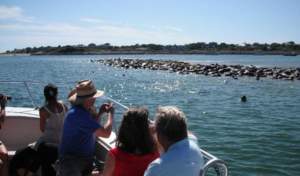 Depart from Nauset Marina on one of Blue Claw Tours USCG inspected boats for their Seal harbor cruises. Cruise through the marshlands, experience the wildlife and birds along the way as your Captain recalls stories of pilgrims, pirates, shipwrecks, and seals.  Leaving the marshes, you'll experience the stunning Pleasant Bay , see the National Seashore sand dunes and Chatham Fish Pier. Then head on to the sandbars and see the seals in their natural habitat.  This is a wonderful trip of around 1 hour 45 minutes leaves from Nauset Marina, just a five minute walk from the Inn.
Call us, or mention it in your reservation  and let us organize your cruise.
Please note this cruise is seasonal, call us for details.

Filed under: Those Little Extras
Select an offer type to see other similar offers