Dates Offered:
04/24/2015
-
04/26/2015
Pricing Details:
$99.00 plus two nights stay at the Inn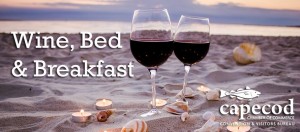 The Parsonage Inn is proud to be supporting the Cape's first annual, Wine, Bed & Breakfast event over the weekend of April 24 and 25.   Book these two nights at the Parsonage and take advantage a vineyard tour and dinner with wine parings. Organized by the Cape Cod Chamber of Commerce, the weekend package includes;
Discover

Truro Vineyards of Cape Cod

! From 1 to 3 p.m., enjoy a wine tasting in the vineyard, learn the art of maritime grape growing, and take a guided tour among the grape vines in spring bloom. Afterwards, browse the gift shop, where you'll find  a wonderful selection of wine accessories, gifts, works by local artists and gourmet food products.
Spend the evening at

Ardeo Mediterranean Tavern

in Brewster. The 5-course dinner with wine pairings will include, Arugula & Pear Salad, Ahi Tuna, Baby Lamb Chops, Avocado Salmon and Blueberry Brulee.
Book two nights at the Parsonage at our regular off season rates and take advantage of this special wine and dinner event for $99.00
 Availability is strictly limited and cannot be combined with other specials,  so interested guests should go online and add the special to their reservation, or call (508 255 8217) to reserve space. Whether you are a wine connoisseur, or just like trying new wines, this is a fun weekend not to be missed.
Filed under: Specials
Select an offer type to see other similar offers