Experience the best Cape Cod Breakfast to start your day.
At the Parsonage Inn we want guests to experience the best Cape Cod Breakfast available, and for breakfast to be one of the highlights of your stay. Served between 8:30 – 0930, (0800 – 0930 July-August) either on our beautiful patio or in our cozy dining room. We always use fresh organic and locally sourced produce as well as herbs and vegetables from our veggie beds. Our menus are varied daily and we'll happily accommodate dietary needs, just let us know in advance.
We are a high fructose corn syrup and nitrate free Inn! Read about our ideals in the Edible CapeCod spring 2016 edition.
We always select free range organic eggs,we source our vegetables from a small local store that generally offers local and organic produce.  If we offer bacon or sausage it's always nitrate free! As you can see, this is our passion and guiding philosophy to creating the best Cape Cod Breakfast. We have three raised veggie and herbs beds, to offer home picked produce, not "farm to table", but "garden to table" fresh produce, another reason we're able to offer the best Cape Cod Breakfast available.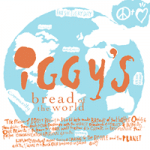 We are very fortunate to have our bread delivered directly by Iggy's, Boston's artisan bakery. Whether it their rosemary focaccia, or cranberry pecan, it's fresh and organic with no preservatives.
Our breakfasts always include fresh organic fruit, homemade granola (click here for the recipe) and often it will include Bircher muesli (you have to try it!). We try to stay clear of heavy cakes/muffins but you have to try our white chocolate and raspberry mini muffins (small is good!), tangy orange yogurt cake (made with our own Seville Orange Marmalade), or gluten free macaroons filled with mascarpone and chocolate raspberry shard. And there's nothing better for breakfast than freshly brewed coffee, including cappuccino or expresso, and a variety of teas.

And, to whet your appetite, here's a summary of freshly prepared dishes from the Inn:
Pain perdu, (eggie bread in English), almond croissant French toast, or creamy orange French toast, with maple peppered roasted bacon.
Warm breakfast croissant, filled with avocado, eggs, prosciutto and pea shoots.
"Things on toast", including chorizo scrambled eggs with pesto bruschetta, fig, ham and cheese Panini.
Scrumptious buffets, with warm homemade breads, selection of hams and cheeses from our Farm Shop, savory bread pudding, roasted vegetable frittata.
Thin herb omelette, stuffed with smoked salmon, avocado, mustard sour cream and dill dressing, with roasted tomatoes.