Relax and enjoy an informal Cape Cod Breakfast to start your day.
At the Parsonage Inn we want guests to experience the best Cape Cod has to offer. In 2020 we all experienced significant changes in hospitality, enforcing strict service protocols, respecting social distancing and revised cleaning practices. As we look forward to the new year, we have observed some changing trends. Our contemporary keurig coffee/tea machines and shortbread biscuits added to all rooms last year, has been a welcome addition. We also saw that many of our guests were more self sufficient and did not take our served breakfast. With that in mind and together with the uncertainties we all face, we plan to offer a more flexible approach to our Cape Cod breakfast. While we cannot be completely specific, we plan to provide flexibility with fresh fruit, yogurts, juices, healthy granola bars and of course espresso in the lounge. We will also offer daily specials including, home baked muffins, warm savory filled croissants, or danish pastries (locally baked and delicious!). Our intention is to offer these for you to enjoy in our cozy lounge or on our beautiful patio.
For our savory specials fresh herbs come from our own beds, we'll always use pasture raised organic eggs, and if we offer bacon or sausage it's always nitrate free! As you can see, this is our passion and guiding philosophy.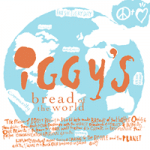 We are very fortunate to have our bread delivered directly by Iggy's, Boston's artisan bakery. Whether it their rosemary focaccia, or cranberry pecan, it's fresh and organic with no preservatives.
Look out for our white chocolate and raspberry mini muffins (small is good!), tangy orange yogurt cake (made with our own Seville Orange Marmalade), gluten free macaroons filled with mascarpone and chocolate raspberry shard. And there's nothing better for breakfast than freshly brewed coffee, including espresso, and a variety of teas.

And, to whet your appetite, here's a summary of freshly prepared dishes from the Inn:
Warm breakfast croissant, filled with avocado, eggs, prosciutto and pea shoots.