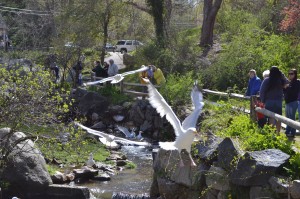 This annual "pilgrimage" takes place from mid April for about a month and indirectly announces the beginning of warmer weather.  Last year we experienced it for the first time, I am not sure what we were expecting, but I can say we were not prepared for what we witnessed.
Herrings are anadromous, meaning that although they spend most of their lives in the ocean, they return to the same fresh water ponds or lakes where they were born to spawn. By mid April those ponds have a water temperature of around 55f and the schools of herring navigate up the streams and brooks to their spawning grounds.  On the way and at many spots on route, they gather in shallow ponds before continuing their leaping up the waterfalls and "ladders" to their final destination.  One such spot on route is Pains Creek directly across from Stony Creek Grist Mill.  This all seems fine for the herring, tiring yes, but really a piece of cake, right, that is until you introduce the seagulls into the equation.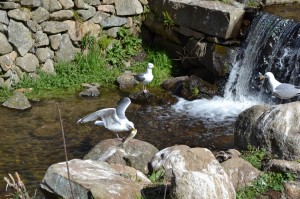 Waiting in the shallow ponds and approaching almost in fighter formation, the gulls dive bomb and gorge themselves on the herring, flicking them in the air and swallowing head first in one motion!   It's an extraordinary sight.  Thousands of herrings patiently waiting their turns and the squawking and squabbling gulls.
Heading down 6A, the Old King's Highway from Orleans and through Brewster you take a left at the fork by the sign for Stony Brook Road. Less than a mile up the road, you'll see the spot.
You won't be disappointed!
The Parsonage Inn is just minutes from both the ocean and bayside beaches. The Inn is opposite one of the best Farm shops on the Cape, close to gorgeous local gift shops, restaurants and the highly rated Sundae School ice cream . Each of our rooms are individually appointed and we offer a delicious organic breakfast each morning.
Reserve your room today, we look forward to welcoming you to Orleans Cape Cod soon