Orleans and Cape Cod – beaches, biking, and so much more
We are a small privately owned cozy Inn offering a very personalized concierge service. Whether it's local restaurant bookings, day trips, seal or whale watching, bike rentals, or theatre tickets (The Academy Playhouse is just a 10 minute walk from us), we're here to ensure you have a wonderful stay in Orleans.
After an organic breakfast, head for Nauset Beach, one of Cape Cod's main attractions only 1.6 miles from the Inn – miles and miles of dunes and golden sand, look out for the seals. Bike along the many trails that criss-cross the Cape, through forests, over sand dunes or by glacial ponds. Explore the art galleries, craft and antique stores in Orleans, along Route 6A, Old King's Highway or in neighboring towns. Round off the evening with dinner at one of many Orleans outstanding restaurants.
Increasingly Cape Cod and the Lower Cape is becoming an all season destination.  For many the Fall, Spring  and the Holidays are the best time to visit the Cape.  With so much going on, plan a trip to our wonderful beaches, glorious walks, delicious restaurants, beautiful local artisan shops, and activities galore. Click here
Our Beaches
Nauset Beach
"Nauset is nearly perfect. It looks like a football field of sand, and then another, off into the distance. The sand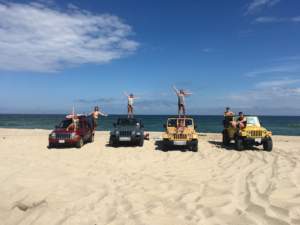 itself is grainy, with enough heft for a preteen to produce world-class seashore architecture to last for generations, or at least until the waves roll in. Eiders alight, their heads white and chests puffed out, then take flight again with a brief rustle. Nauset gets crowded, but it's a Saturday-afternoon-at-the-park kind of crowded, not Coney Island on Independence Day. There's always room for touch football. Weekdays are better than weekends, late August or June better than July." National Geographic Traveler
Just a 2 minute drive from the Inn, this very popular public beach, with miles of white sand, is located on the Atlantic Ocean. During the summer season the beach offers lifeguards, restrooms, outdoor showers, changing rooms, bike racks, benches, picnic tables, and beach equipment rentals.  On Monday evenings during July and August enjoy a free outdoor concert in the Gazebo at Nauset Beach. Check out Nauset Beach Camera
Skaket Beach
Just a five minute drive from the Inn, this public beach on Cape Cod Bay has warm clear waters and is ideal for families who prefer calm water, perfect for children to play in the tidal pools. At low tide, you can walk for miles on the flats. The sunsets at Skaket Beach are legendary! Skaket Beach offers restrooms, bike racks, lifeguards, outside showers, benches, picnic tables, a snack bar and is handicap accessible.
Local restaurants
Two minute walk from the Inn
  Five minutes by car from the Inn
ABBA, 508 255 8144.  American contemporary, chic  –    http://www.abbarestaurant.com/
Bangkok Thai Cuisine, 508 255 3301.  Classic thai  –    http://www.doubledragonorleans.com/
The Beacon Room 508 255 2211. Elegant classic dining  –    http://beaconroom.com/
Captain Linnell House, 508 255 3400. Elegant classic dining  –     http://www.linnell.com/
Guapo's 508 255 3338. Classic mexican, great cocktails  –  http://www.guaposcapecod.com/
Land-Ho 508 255 5165. Casual pub grub  –   http://www.land-ho.com/orleans
Lost Dog 508 240 3647. Casul pub grub  http://www.lostdogpubs.com/
Mahoney's 508 255 5505. Casual dining, good menu  –   http://www.mahoneysatlantic.com/
Jailhouse 508 255 5245. Fun beer garden and micro brewery  –  http://jailhousetavern.com/
Rock Harbor 508 255 3350. Casual dining, great atmosphere and food –  http://rockharborgrill.net/
Vers  774-561-2185. Modern contemporary dining  –  http://www.verscapecod.com/
Yardarm  508 255 4840. Family dining   http://yardarmrestaurant.com/wp/
The Corner Store, Orleans  http://www.orleanscornerstore.com/
The Knack, gourmet burgers and more, 774 316 4595,  –  https://theknackcapecod.com/
SUNBIRD, organic bistro/café,   http://www.birdinthesun.com/
Chocolate Sparrow,  Coffee, chocolate, pastries. 240.2230.

For a summary of upcoming local events click here 
Physical Activities & Sports
Cape Cod Rail Trail – Biking
Cape Cod Bike Guide
Golf Courses
Wellfleet Bay Wildlife Sanctuary
Bird Sightings
Walking Trails
Kayaking – Rentals, Lessons, Tours etc
Charter fishing out of Rock Harbor in Orleans
Fresh water swimming in the many lakes and ponds
Tennis Courts (just a mile away)
Tours and Sightseeing
Whale watching out of Provincetown
Cape Cod Baseball
Blue Claw Boat Tours – Seal tours from Orleans to Chatham
Theaters & Playhouses
Cape Cod Theaters
Theatre at The Academy Playhouse
Local Movie Theatres
Museums & Gardens
http://www.ccmnh.org/  Cape Cod Museum of Natural History
Heritage Museums and Gardens
Expedition Whydah Sea Lab & Learning Center
Woods Hole Oceanographic Institution
Travel & Transportation
Cape Cod, Martha's Vineyard & Nantucket Travel Guide (Land, Sea, Air and Bike)
Cape Cod Regional Transit Authority
Freedom Cruise Line – Harwich Port Ferry to Nantucket and Seal and Seabird Cruises
Hy-Line Cruises – Hyannis Ferry to Nantucket and Martha's Vineyard
Steamship Authority – Woods Hole & Hyannis Ferry to Martha's Vineyard and Nantucket
Weather in East Orleans, Cape Cod, Massachusetts