When planning your vacation or short break, (apart from choosing The Parsonage Inn of course!) an important part of the plan is ensuring there's a great selection of dining options, be it casual or fine. Since our last blog three years ago much has changed in terms of restaurants in Orleans and within the local area, but local cuisine will still be a highlight of your stay on Cape Cod. Whether it's a craving for fresh seafood, a classic lobster luncheon, or perhaps an evening of fine dining, there is something for every palate, all within 20 minutes of the Inn.
Although the focus is on Orleans, we've included some of our "out of town" favorites as well. For the best restaurants in Orleans you really are spoilt for choice!.

Dining, restaurants in Orleans

Rock Harbor Grill
One of our favorites for casual dining, Rock Harbor Grill is all about great food prepared with fresh, quality ingredients with a passion for flavor and style! A wood fired barbeque, lively atmosphere and great service make for a great dining experience.
508-255-3350



Barley Neck
A five minute walk from the Inn, our local go to, Barley Neck has a lively bar area and three intimate dining rooms housed in a 1868 Sea Captain's home. Enjoy weekend live entertainment spot and Barley Neck's renowned selection of top-shelf cocktails and value-priced wines.



The Beacon Room


Another of our favorites, The Beacon Room is just a five minute drive from the Inn. Casual but elegant dining, offering classic and contemporary dishes. Cozy intimate atmosphere.
508-255-2211

Mahoney's Atlantic Bar and Grill
A firm favorite with our guests, Mahoney's is just a five minute drive from the Inn. Owner chef Ted Mahoney has developed an eclectic menu with an emphasis on fresh and local seafood
508-255-5505

TEN YEN
New in '21, TEN YEN has quickly established itself offering beautifully presented sushi. This is a small restaurant so reservations are necessary.
774-209 3160

The Alley Bowl & BBQ
The Alley Bowl not only features 12 candle pin lanes, it's also a house smoked BBQ restaurant, a full bar in a casual, friendly and lively environment. The menu includes house smoked signature meat trays (ribs, brisket, chicken, pork) smoked low and slow for hours. A meat lovers delight!
774-801-2116

La Bella Vita
Casual indoor or alfresco dining, La Bella Vita offers Italian, American and fresh local seafood, just a two minute drive from the Inn. Popular spot year round, they take limited reservations for indoor dining.
774-316-4454


ABROAD
New in '21 ABROAD focuses on tapas style street and beach food from various cultures across the world with a decor to reflect those cultures.
774-207-0906

This is by no means the complete list and illustrates the a rich selection of restaurants Orleans has to offer, including additional favorites, Land Ho!, Yardarm, Bangkok Thai, Lost Dog, Cook's, 3Fools, Jailhouse, Double Dragon
Close by restaurants

Mac's Shack
Perhaps our favorite "out of towner", Mac's Shack is located near the pier in Wellfleet, always fresh fish and landed by local fishing families and sustainable seafood suppliers. Be prepared to wait for a table, but a lively bar atmosphere and great cocktails will ease the pain!
508-340-6444

Sesuit Harbor Cafe
Sesuit Harbor Cafe is the classic Cape Cod clam shack offering outdoor dining overlooking Northside Marina and Cape Cod Bay. Always busy and one of our favorites, order at the counter and grab a picnic table outside. Their lobster roll is a classic to be savored while watching the comings and goings of the busy marina.
508-385-6134

Bistro on Main
Always busy, Bistro on Main offers great friendly service, a raw bar and local food prepared and beautifully presented. A consistently good experience. A short 20 minute drive through Pleasant Bay
508-945-5033

Spinnaker
Ten minutes from the Inn in Brewster, Spinnaker offers a cozy intimate fine dining experience with menu that includes wonderful vegetarian dishes.
508-896-7644

Beachcomber of Wellfleet
Live music, cool cocktails, great pub grub, stunning scenery right on beach and a lively atmosphere.
508-349-6055

Del Mar
Del Mar offers local seafood, bistro cuisine with a wood fired pizza oven in a friendly and lively atmosphere. Very popular with guests.
508-945-9988
The Parsonage Inn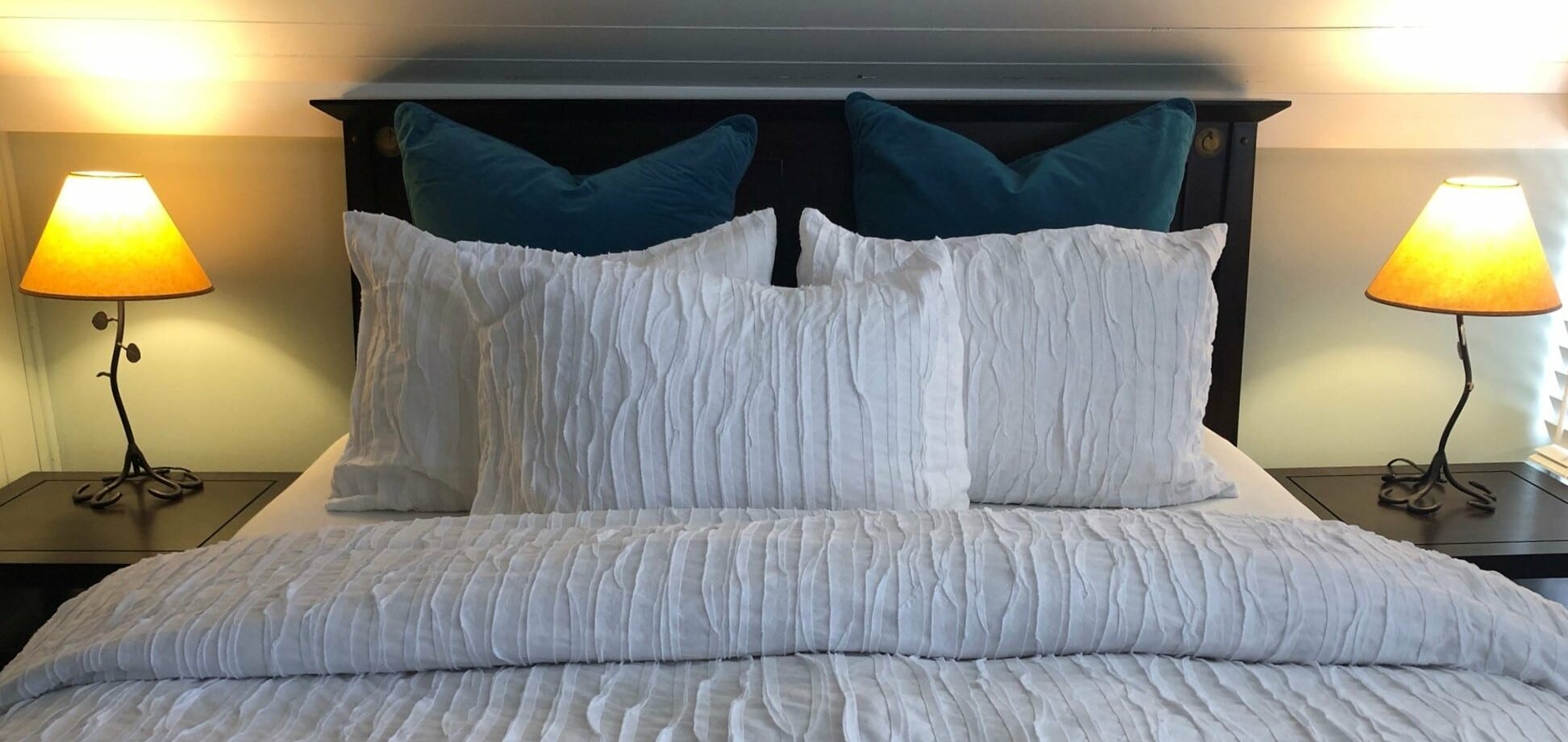 Celebrating our eleventh year as Innkeepers, we continue to evolve and refresh the Inn. Our three bedroom summer Cottage rental has been a welcome addition offering family groups and guests flexibility, and our freshly prepared organic breakfasts delivered directly to the guest rooms in the Inn have been a big hit. Just minutes from both the ocean (Nauset Beach) and bayside beaches (Skaket and Rock Harbor), the Inn and Cottage are opposite one of the best Farm shops on the Cape, close to new and established local gift shops and restaurants.
Reserve your room today, we look forward to welcoming you to Orleans Cape Cod soon.