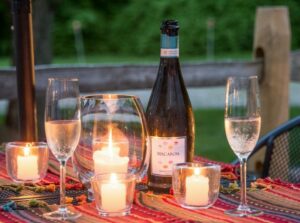 Birthday, anniversary, whatever the occasion, celebrate with a chilled bottle of "bubbly" on arrival.
Gerard Bertrand, Cremant de Limoux with its tiny bubbles and aromas of fruit, biscuit and flowers, is a well balanced and structured wine with a crisp mineral finish. Add to your room and we'll make sure it's chilled on arrival with two champagne flutes and an ice bucket!
Call us for details, or add it to your online reservation.
Categories:
Those Little Extras