Meet your hosts – Jo-Anne and Richard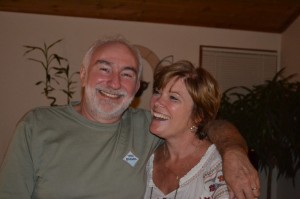 Jo-Anne and Richard Hoad welcome you to The Parsonage Inn, a cozy, romantic and completely renovated bed and breakfast on the Lower Cape in Orleans, the heart of Cape Cod. Jo and Rich have loved the experience, met so many wonderful guests and have memories to last forever.
Jo-Anne and Richard have been married for 37 years, have five children, worked and lived in United Kingdom, Germany, Saudi Arabia, Canada, Maryland US and now in Cape Cod.
Jo-Anne comes from a family deeply involved in the hospitality industry. Her parents owned Inn's in the UK for almost twenty years and her family live in the sailing center of Lymington in southern England.
Jo-Anne has successfully brought up a family of five children, managing and balancing the challenges of a busy home life. She is an accomplished home taught cook, uses only fresh, local and wherever possible organic ingredients. Working with two colleagues in Maryland, they established "Rich Pickings" an organic inspired catering partnership that provided personalized event catering. Richard is a successful Business and Marketing Director, focused in the airlines and airports managed services sector. He is a graduate of The Chartered Institute of Marketing and is an experienced aviation business professional who has run businesses, sales, and marketing organizations in the US and Europe.
Parsonage Inn, in the press
Some of Our Accolades
"We had three magical days, everything here at The Parsonage was perfect. Thank you." Julie and David,England, October 2019
"What a wonderful Inn, rooms location, personal touch, we cannot wait to hear back" Eric and Hannah, Boston, August 2019
"Thank you Jo-Anne and Richard for a wonderful relaxing girls weekend" Terri and Lori, MA, September 2017
"We had a wonderful time and the breakfasts were the best ever" Alan and Alexandria, Ontario, Canada, August 2017
"A beautiful and relaxing getaway." Agatha and Henry, CT, November 2015
"Wonderful hospitality and the best breakfasts" Jenny and Stuart, Perth, Scotland, October 2015
---