It's clearly the season of the "10 best things", so with so much to choose from on the Cape, spectacular beaches and landmarks, wonderful natural resources and fabulous restaurants, we thought we'd add our own experiences and Cape Cod favorites.
1    Herring Run
This annual "pilgrimage" takes place from late April for about six weeks.  Herrings are anadromous, meaning that although they spend most of their lives in the ocean, they return to the same fresh water ponds or lakes where they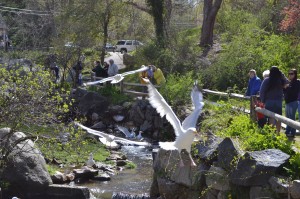 were born to spawn. Schools of herring navigate up the streams and brooks to their spawning grounds.  They gather in shallow ponds before continuing their leaping up the waterfalls and "ladders" to their final destination.  Meeting them on the way up are hungry sea gulls.  One such spot on route is Pains Creek directly across from Stony Creek Grist Mill and just 15 minutes from us.  Not to be missed!
2   Whale Watching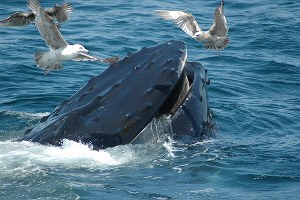 It's a magical moment to observe your first whale.  Whale watch tours regularly leave from both Barnstable and Provincetown harbors, last 3-4 hours and, depending on the time of year, whale sightings are virtually guaranteed. The season runs from April until October and is a must.  Arrive back in Provincetown and enjoy an evening and dinner in this lively and flamboyant town.
3    National Seashore, Nauset Beach
The  Cape Cod National Seashore was created by President Kennedy in 1961, encompasses 43,607 acres, includes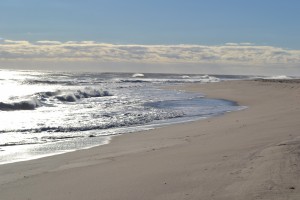 ponds, woods and 40 miles of seashore along the Atlantic-facing eastern shore of Cape Cod.  I know we're biased but our favorite has to be our own Nauset Beach, but closely followed by Fort Hill, Head of the Meadow and Race Point Beach. Spot the seals and surfers.
4    Bike the rail trail
With miles of trails and Orleans almost the center of the former rail trail, enjoy some of the most beautiful sights,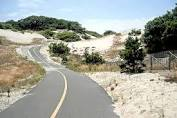 kettle ponds, cranberry bogs, numerous coffee shops and for the more adventurous many of the beaches directly from the trail.  And with two great bikes rental stores in Orleans right on the trail, it's a great way to enjoy the Cape and all it has to offer.
5    Sunset at Rock Harbor, musical accompaniment
To many perhaps the best sunset on Cape Cod. Rock Harbor is where the fishing and charter boats reside and the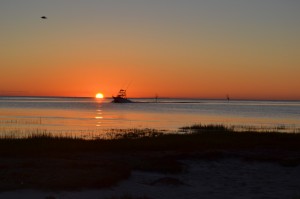 incoming channel is uniquely lined with young pine trees. With miles of tidal flats, it's a wonderful spot for families. Each evening the car park fills with visitors eager to experience sunset often accompanied by a steel drum band and ends with a round of applause.
6    Theatre and productions
The Cape is famous for its range and variety of local theatres, as well as an eclectic music scene. Our two local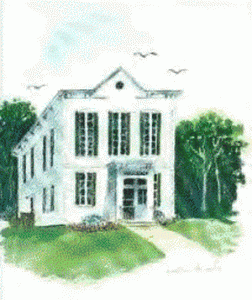 theatres Academy Playhouse just a 10 minute walk from the Inn and the Cape Rep Theatre in Brewster, provide a variety of productions, including for 2016, Wizard of Oz, A Chorus Line and Hairspray. And, we haven't mentioned local theatre in Dennis, Chatham and Wellfleet, all less than 30 minutes from the Inn.  There really is something for everyone.
7    Seal tour plus sunset and blue moon tour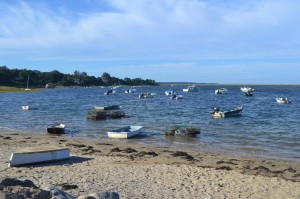 Leave from meeting house pond (five minute walk from the Inn), experience a salt water river and its habitat, view the dunes of the Cape Cod National Seashore, Pleasant Bay, and Chatham Lighthouse before experiencing the seals in their habitat and swimming in groups.  Enjoy a quiet evening cruise and experience a spectacular sunset over Pleasant Bay and see a full moon rising over the dunes of Nauset Beach.  These and others are available through Blue Claw Boat Tours.
8    Ice cream, ice cream and more ice cream
On a hot summer's day what's better than a large homemade ice cream cone? Cape Cod offers homemade ice cream that is to die for, wonderful flavor selections.  We can't fail to mention Sundae School, just 50 yards from us, or Ice Cream Café and Local Scoop in Orleans.
9    White cedar swamp
This remarkable trail off of Marconi Beach descends through a stunted oak and pine forest before leading onto a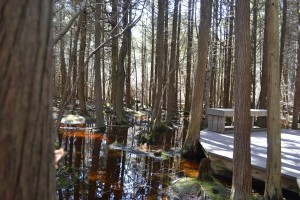 raised boardwalk that loops through a unique Atlantic White Cedar Swamp before returning through a sanded road.  It's just over a mile, take a camera.
10    Lighthouse tour
Last but certainly not least a lighthouse tour is a must. There are 14 lighthouses here on the

Cape, most are open during the season for tours and offer interesting stories and tales from their past and remain today as reminders of that bygone era.   Our favorites include Chatham Light, Nauset Light and Race Point Light.
11    6A The Old Kings Highway
Sorry but we just had to add an eleventh! Route 6A, just 5 minutes from us, winds its way through some of the oldest villages in America, including Bourne, Sandwich, Barnstable, Yarmouth, Dennis, Brewster and

Orleans. Many of the homes and churches along this tree-shaded road are listed on the National Register of Historic Places. An abundance of art galleries, antique shops, and great restaurants provides something for everyone.
 Whatever your plans are for 2016, and whatever your "10 best things" are, have a wonderful break and enjoy your surroundings, there is so much to see around us.
Parson Brown