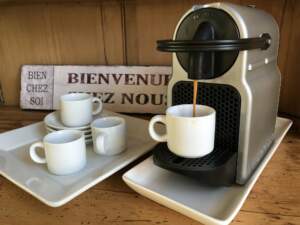 With the Fall now upon us, and with it the cooler afternoons, there's nothing better than finding a cozy coffee shop in the afternoon for a capuccino or hot chocolate and cake(s). In Germany kaffee und kuchen (coffee and cake) is a bedrock in German culture and similar to afternoon tea in England. We can certainly match this here on the Cape! While we do have a Starbucks and Dunkin Donuts in Orleans, you can enjoy barista delivered coffee and home baked pastries/cakes in cozy relaxed surroundings.
Before we highlight some of our favorites, don't forget at the Inn, we offer cappuccino and espresso for breakfast and have an Nespresso expresso machine in the lounge for our guests. Now, here are some of our favorites, most within minutes of the Inn and open year round. Enjoy!!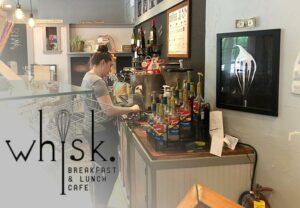 Whisk:
The latest local spot to pop up on the food and drink scene here on the Cape is the brand new Whisk Breakfast & Lunch Café in the Windmill Plaza in East Orleans. Whisk offers coffee from Three Fins Coffee Roasters, capuccino and expresso, together with yummy pastries and cakes.
Just a hundred yards from the Inn, and open year round, a great place to stop off, unwind and enjoy their cozy, relaxed coffee shop atmosphere.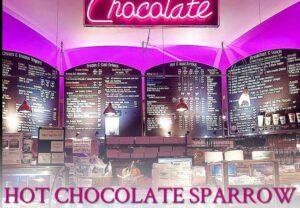 Hot Chocolate Sparrow:
The Hot Chocolate Sparrow, a local institution since 1993, is a cafe complete with coffee from around the world, desserts of every indulgence, and homemade hand-dipped chocolates. They offer specialty coffee drinks in a sophisticated but welcoming atmosphere.
The Sparrow is open early morning to late night, every day of the year except Christmas. It's a place where not only locals can connect, but where their chocolate is sent all over the country. Right on the Cape Cod bike trail and just minutes from the Inn, it's the perfect stop off for bikers and walkers alike, year round.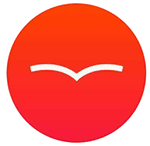 Sundbird:
Sunbird "is a neighborhood bird feeder open year-round, serving seasonally fresh food, fresh coffee, pastries and craft beverages in a playful and inviting habitat. Visiting or local, it's about flocking together". All an interesting visit, and just 5 minutes from the Inn, it's a great spot for coffee, pastries and delicious lunches.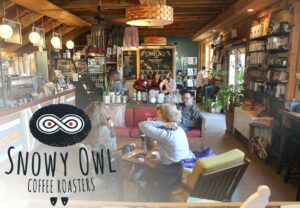 Snowy Owl:
Located in Brewster, just a 10 minute drive from the Inn is Snowy Owl, another favorite of ours.
"We at Snowy Owl Coffee Roasters offer high-grade, freshly roasted and meticulously prepared coffees. We procure our specialty coffee beans from importers, small-lot growers, and cooperatives that focus on environmental sustainability, economic development, and educational enhancement programs. With several direct-trade partnerships, our goal is to provide transparency and education to our coffee consumers".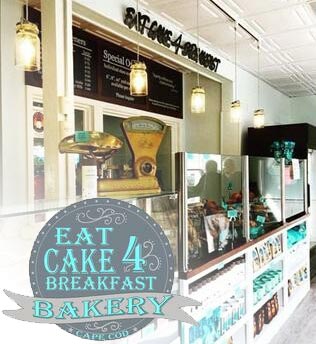 Incidentally, their pastries are good too!!
Eat Cake 4 Breakfast:
Like Snowy Owl, Eat Cake 4 Breakfast is just a 10 minute drive from the Inn in Brewster. Their philosophy is "food should be fun and delicious. People all over the world celebrate life with food, and pastries are the party favorite! We believe in high quality even for the most basic products and hope that our passion and love for food translates to our customers".
Pastry Chef and Owner Danielle Nettleton Paris trained at Le Cordon Blue, combines her classic French Pastry influence with her true American roots to creat pastries every foodie can enjoy. We love their Brewster Buns.
The Parsonage Inn: located just minutes from both the ocean and bayside beaches, welcomes you to Cape Cod. The Inn is opposite one of the best Farm shops on the Cape, close to gorgeous local gift shops and restaurants. Each of our rooms are individually appointed and we offer a delicious organic breakfast every morning.
Reserve your room today, we look forward to welcoming you to Orleans Cape Cod soon.