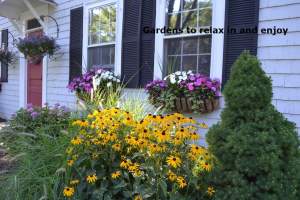 Cape Cod's gardens are a mass of color and fragrance though out the seasons. Whether it's the spring daffodil festivals, the rhododendrons, or summer's hydrangea's, there's always  something in bloom.  We were once told that Cape Cod is typically 10 degrees warmer in the winter and 10 degrees cooler in the summer than Boston.  The more temperate climate may well explain why our gardens and parks are so colorful throughout the seasons.
Jo and I are"enthusiastic amateurs".  We love to get out and try new things, including growing our own vegetables in our veggie beds. Our son Charlie's landscaping skills, knowledge and ideas have helped us shape our gardens allowing guests to hopefully enjoy the beautiful flowers.
With the season moving into full flow, come to the Cape, enjoy our parks and gardens.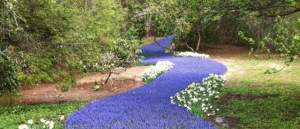 Heritage Museums & Gardens offers 100 acres of expansive gardens and include three galleries. In the galleries you'll find a collection of American Folk Art, a vintage carousel you can ride, important American automobiles from the brass age to the present, and traveling exhibits.  Current exhibits include the gorgeous rhododendrons and the hydrangeas next month. Jo loves the motor museum.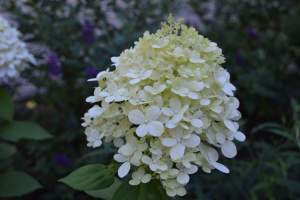 The Orleans Improvement Association (OIA) will host its 29th annual Cape Cod garden tour ALONG THE GARDEN PATH on Saturday, June 24, 2017 from 10 am to 4 pm featuring six lovely Cape Cod gardens. On the tour attendees will see plein air painters at work. Master gardeners will be on the tour to answer questions. Refreshing ice cream will be served on the tour as well. After the tour art galleries will hold receptions in town from 4-6 pm.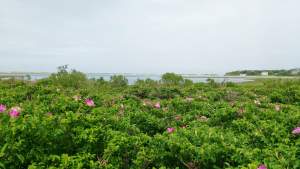 Our wild roses are now coming into bloom. Along the marshes and national seashore, these gorgeous blooms and their fragrance are wonderful.  We took this picture last week at Snow's Landing looking out towards Nauset Beach.
Parson Brown