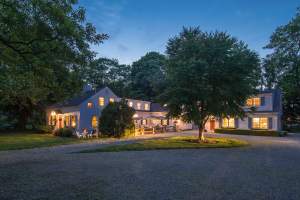 We have often thought about how to take advantage of the Inn's unique features in the offseason.  The Inn's relaxing lounge with a working fireplace, the cozy dining room and six spacious bedrooms all with private bathrooms, would make the perfect group or reunion getaway for parties of up to 14 people. In recent years Jo and I have experienced group getaways at large homes, they really are great fun, but pulling together this type of event takes a great deal of planning and organizing.
When choosing a destination for a group celebration or family reunion, there are many important things to consider, including;
A convenient location
A need for adequate private facilities as well as space to spread out
A plan of activities for the occasion that can cater to different events and generations.
Within these points, there are the details that will help make the event memorable.
How will the event be catered, are there local restaurants that can cater to groups?
Will breakfasts be catered or self catered?
What's the length of stay?
What local facilities may be included in an event, for example, spa treatments, golf days.
Central to all of these points is someone with the local knowledge, who can help pull this type of event together.   Whether its a simple relaxing weekend away with friends and family in front of a real crackling fire, or a more elaborate event including dinners and perhaps a spa, let us help plan it for you.
You can then enjoy some of the Cape's unique features, our glorious beaches, miles of hiking and biking, great restaurants and so much more.
Thinking of that special event, then call us, give us your thoughts and let us plan your getaway.
Parson Brown