There's something very special about a visit to Cape Cod and its historical buildings. History is all around us, our towns, private homes, churches, museums, Meeting Houses, lighthouses and even our beaches, all have a story to tell.
Historical buildings dating back to the eightenth and ninetenth centuries are everywhere. The Meetinghouse just up the road from us, dates back to 1834. The Federated Church almost opposite was built slightly later and for fifty years The Parsonage Inn was home to the Ministers or Parson and their families. Our specific interest is to the year 1770 and some of the historical events from that year, include;
Luwig van Beethoven was born in Bonn, Germany
Mary Antionette married the future King Louis XVI of France
John Dickinson (founding Father) marries Mary Norris in a civil ceromony
Boston Massacre, the initial conflict that paved the way for the American Revolution.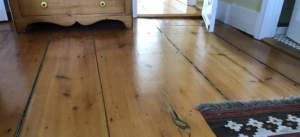 It was also the year that an original full cape cod house now known as the Parsonage Inn was built. A truly historicl building, our Inn celebrates it's 250th birthday this year! As custodians of this beautiful property we'd like to share some of its history.
Our wonderful pumpkin pine floors. For many of you who have stayed with us, you'll no doubt be aware of our gorgeous original 1770's pumpkin pine floors and their significance in terms of the King's Lumber. Some of our planks are almost two feet wide so click here to read about why that was so important or contentious.
During some repairs to our Barn last year we stumbled upon some newspapers stuck to the walls. We were able to cut out the lumber with the print on, or peel the paper off. They are now framed and hang proudly in our main lounge. The attached image from the paper dated January 22, 1844, relates to the market for beef cattle, sheep and swine. Another article has the shipping manifest for a boat SS Niagra, that had recently arrived from Liverpool. Wonderful stuff!
Lastly the previous owners of the Inn, Liz and Ian Browne, were able to research some of the Inns history and we have several Wills and Testaments for the 1800's. All the documents and maps are in our lounge.
We love this short piece from the Last Will and Testament of Daniel Cummings dated December 14, 1857. "To my beloved Wife Lydia…………. Also I give her all the fuel, molases, flour, meat and meal on hand at my decease. I give to Daniel Cummings my son, my hearing apparrel and earings". Earlier in the Will he also leaves his wife his his pew seat no 52 at the Meeting House in Orleans. I wonder if we can go ahead and claim it now!
The Parsonage Inn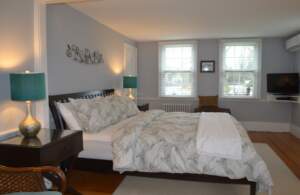 Looking at historical buildings, then experience the history of the Inn, in a modern contemporary environment, at The Parsonage Inn. Just minutes from both the ocean and bayside beaches, the Inn is opposite one of the best Farm shops on the Cape, close to gorgeous local gift shops and restaurants. Each of our rooms are individually appointed and we offer a delicious organic breakfast every morning.
Reserve your room today, we look forward to welcoming you to Orleans Cape Cod soon.